(Discounts and Price Comparisons Below)
Sunwarrior Protein – A Raw, Clean, Plant Based Protein
Complete Amino Acid Profile
Soy Free
Raw
Gluten Free
Non GMO
Dairy Free
Vegan
Illuminate Body, Mind, and Planet
Lysine & Leucine
No Chemicals, Fillers, or Artificial Ingredients
Pre & Post Workout
Sustainable
Tastes great!
The ultimate raw, plant-based superfood protein designed for fitness and health enthusiasts. Ideal for those who want to build muscle, lose fat and increase athletic performance.
Protein is essential for repairing tissue, burning fat, and building strong bodies. Sunwarrior Classic Protein is 100% plant-based, alkaline-forming, and provides a complete, balanced array of essential amino acids.
Sunwarrior protein is extracted using an old-world, low temperature, enzymatic process that includes the whole grain of brown rice, including the germ, endosperm, and bran, transforming  them into a plant-based protein rich in all the amino acids your body craves
This unique process captures a protein that's silky smooth and mixes well. It's also what makes it tastes so great! Simple, wholesome, and natural, this is uncomplicated nutrition for your more complicated life.
Sunwarrior Protein is hypoallergenic and suitable for anyone – young or old, male or female – not just vegan or vegetarian lifestyles. It is also gluten free, non-GMO, and FREE of unwanted chemicals, acids and solvents
Prices around Singapore
For comparisons sake, here are some products that can be found around Singapore. Click to enlarge it.

Where to buy
Below are the prices from iHerb. With the comparisons above, you can see why CheapSupplement.com.sg recommends iHerb for all your supplement and organic purchases.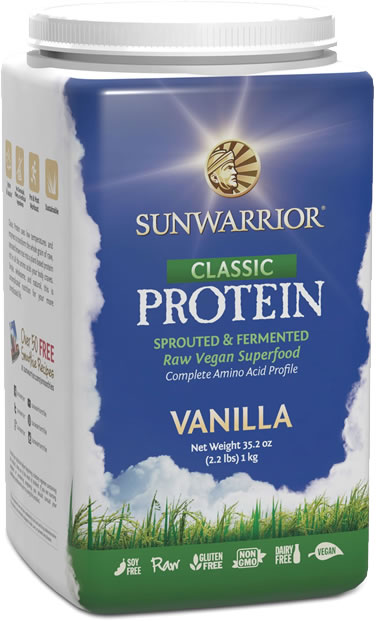 Sunwarrior
Classic Protein, Raw Vegan Superfood
1kg (35.2 oz), All Flavours
Lysine & Leucine. No Chemicals, Fillers, or Artificial Ingredients. For Pre & Post Workout. Sustainable. Classic Protein uses low temperatures and enzymes to transform the whole grain of raw, sprouted brown rice into a plant-based protein rich in all the amino acids your body craves.
Four Seasons Organic Market: $122.90
Redmart/Sunwarriorsingapore.com: $81
iHerb: US$43.99 (SGD$ 59.16) or less
Click to see more SunWarrior products at iHerb
Remember, there are 4 additional ways to save!:
5% Discount: New and existing iHerb customers get 5% Discount with promo code 'ZEL439'!

Just use the links here to auto-apply the iherb promo code, or manually enter it when you checkout

Free Shipping: Get Free Shipping if the order is more than S

$ 80.69

 (US$60)!
5% Loyalty Rebate: Get an additional 5% loyalty rebate that can be used on your next order within 60 days!
Avoid GST: Just make sure the total value of the order (including shipping) is less than S$400!