What is Jojoba Oil
While technically a wax, Jojoba Oil is is the liquid produced in the seed of the Jojoba plant (Simmondsia chinensis). It is a shrub which is native to southern Arizona, southern California, and northwestern Mexico. It is a liquid that has high shelf-life stability and is resistant to high temperatures when compared with true vegetable oils, thanks to high Vitamin E content and low levels of  triglycerides.
It is also noted for its similarity to sebum, which is the oil produced by glands in the skin to protect skin and while keeping them moisturized.
Jojoba Oil Uses
Natural Additive
Jojoba oil is used as an additive in many cosmetic products, especially those marketed as being made from natural ingredients. Common products include lotions, moisturisers, hair shampoos and conditioners.
Skin Care
Native Americans use jojoba oil for treating sores and bruises. Today, it's commonly used to treat acne, psoriasis, sunburn and chapped skin. It is also often used as a moisturizer.
Carrier Oil
Jojoba oil's non-greasy nature also makes it a popular carrier oil for essential oils.
Massage Oil
Jojoba oil's light, silky texture makes it a popular massage oil. For those that find that it gets absorbed too quickly by the skin, it's often mixed with another oil, like sweet almond oil, to slightly enhance its skin-staying power.
Prices around SG
For comparisons sake, here are some products that can be found around Singapore. Are they cheaper? See for yourself. Click to enlarge some example deals.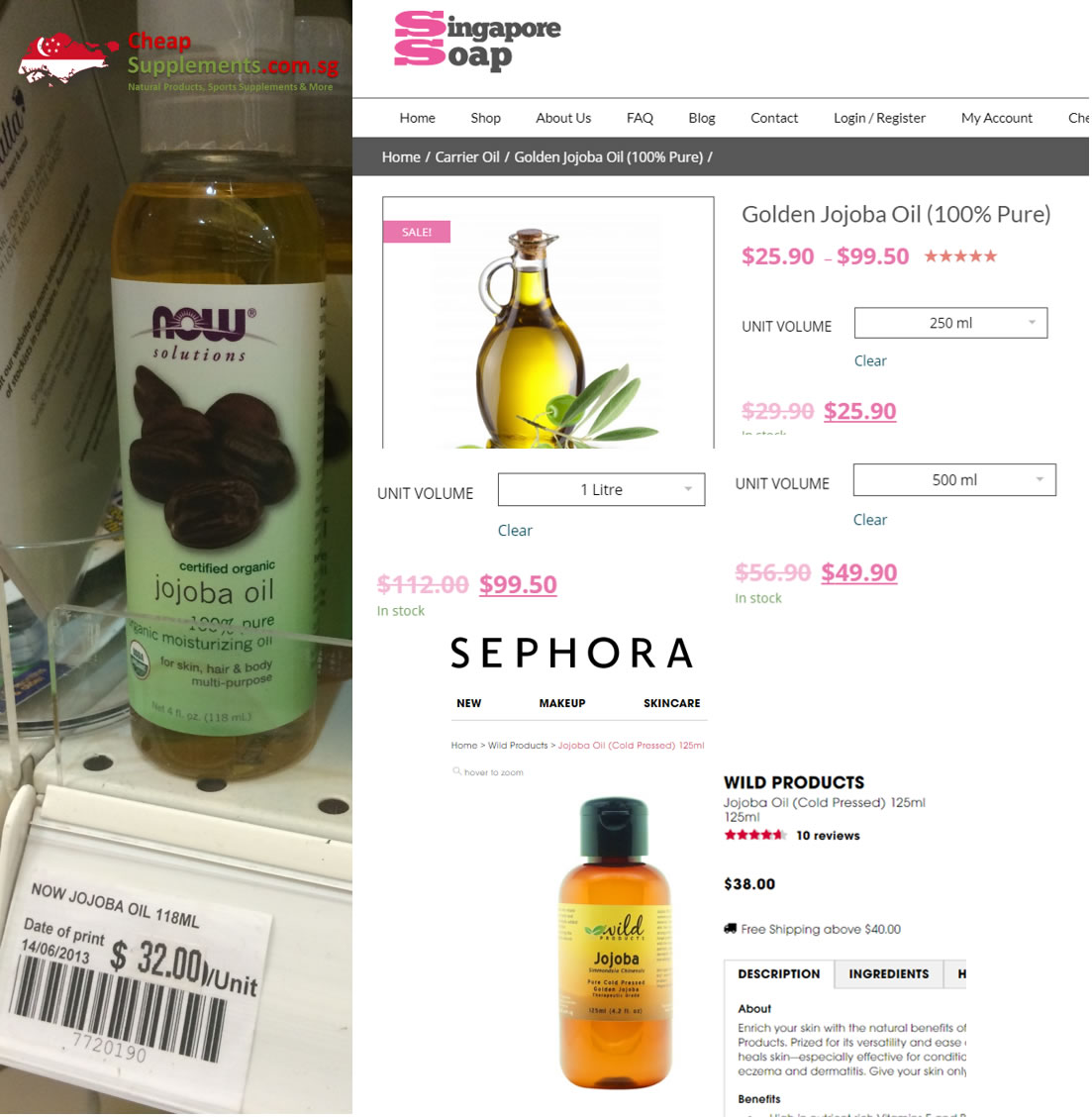 Where to buy
Below are the prices from iHerb. With the comparisons below, you can see why CheapSupplement.com.sg recommends iHerb for all your supplement and organic purchases. All prices before coupon code discount, bulk discount, special offers and loyalty rebates.

Now Foods
Solutions, Jojoba Oil
100% Pure Jojoba Oil is derived from the seed of the jojoba (Simmondsia chinensis) shrub and is one of the most popular cosmetic oils available today. Its high stability, invigorating scent and cosmetic versatility make it ideal for all skin and hair types, and it is most commonly used to promote softer hair and skin.
4 Seasons Organic Market: Organic, 118ml (4 fl oz): S$32
118ml (4 fl oz) iHerb: S$ 11.67 (US$8.76) or less
473ml (16 fl oz) iHerb: S$ 35.94 (US$26.99) or less
Organic, 118ml (4 fl oz) iHerb: S$ 11.67 (US$8.76) or less
Organic, 237ml (8 fl oz) iHerb: S$ 25.14 (US$18.88) or less

Desert Essence
100% Pure Jojoba Oil

Desert Essence Organic Jojoba Oil is a pure and natural plant extract that will penetrate and moisturize your skin without leaving any oily residue. This luxurious oil may be used to remove makeup and to cleanse clogged pores leaving the skin clean.
60ml (2 fl oz), iHerb: S$ 7.48 (US$5.62) or less
118ml (4 fl oz) iHerb: S$ 11.64 (US$8.74) or less
Organic, 118ml (4 fl oz) iHerb: S$ 13.29 (US$9.98) or less

Aura Cacia
Natural Skin Care Oil, Balancing Jojoba
100% Pure Botanical Ingredients. Paraben and Petroleum Free. Jojoba oil contains unique liquid waxes and fatty acids that nourish the skin. It is excellent combined with other skin care oils, adding balance and fortifying the benefits provided.
118ml (4 fl oz), iHerb: S$ 14.48 (US$10.87) or less
473ml (16 fl oz) iHerb: S$ 50.63 (US$38.02) or less
Organic, 118ml (4 fl oz) iHerb: S$ 16.70 (US$12.54) or less
Remember, there are 4 additional ways to save!:
5% Discount: New and existing iHerb customers get 5% Discount with promo code 'ZEL439'!

Just use the links here to auto-apply the iherb promo code, or manually enter it when you checkout

Free Shipping: Get Free Shipping if the order is more than S

$ 79.90

 (US$60)!
5% Loyalty Rebate: Get an additional 5% loyalty rebate that can be used on your next order within 60 days!
Avoid GST: Just make sure the total value of the order (including shipping) is less than S$400!
Click to start saving now! (Why iHerb)