What is Almond Oil
Almond Oil  is a plant oil extracted from the almond kernel of the almond tree.
It is a light textured, hypoallergenic oil that's safe for sensitive skin, including baby skin.
Almond Oil Uses
Skin and Hair Care
As an emollient, almond oil keeps the skin soft and supple, even or sensitive skin.
It has high antioxidant value and is able to protect the skin from UV damage as well.
On a daily basis, people often use this oil to soothe chapped skin, as a make-up remover, and to help reduce dark cycles under the eyes. Some even use almond oil as a natural remedy for eczema and psoriasis.
Carrier Oil
Almond oil is a affordable carrier oil for essential oils, and is also used as the in soap making, scrubs and face serums.
Massage Oil
As it has a slightly oily texture, almond oil allows hands to glide easily over skin. It is absorbed fairly quickly by the skin, but not so quickly that you need to keep reapplying it.
Compared with other oils, sweet almond oil is also reasonably priced. It usually does not irritate skin. People with nut allergies should not use almond oil though, and do note that this oil does tend to build up on sheets and and stain.
Prices around SG
For comparisons sake, here are some products that can be found around Singapore. Are they cheaper? See for yourself. Click to enlarge some example deals.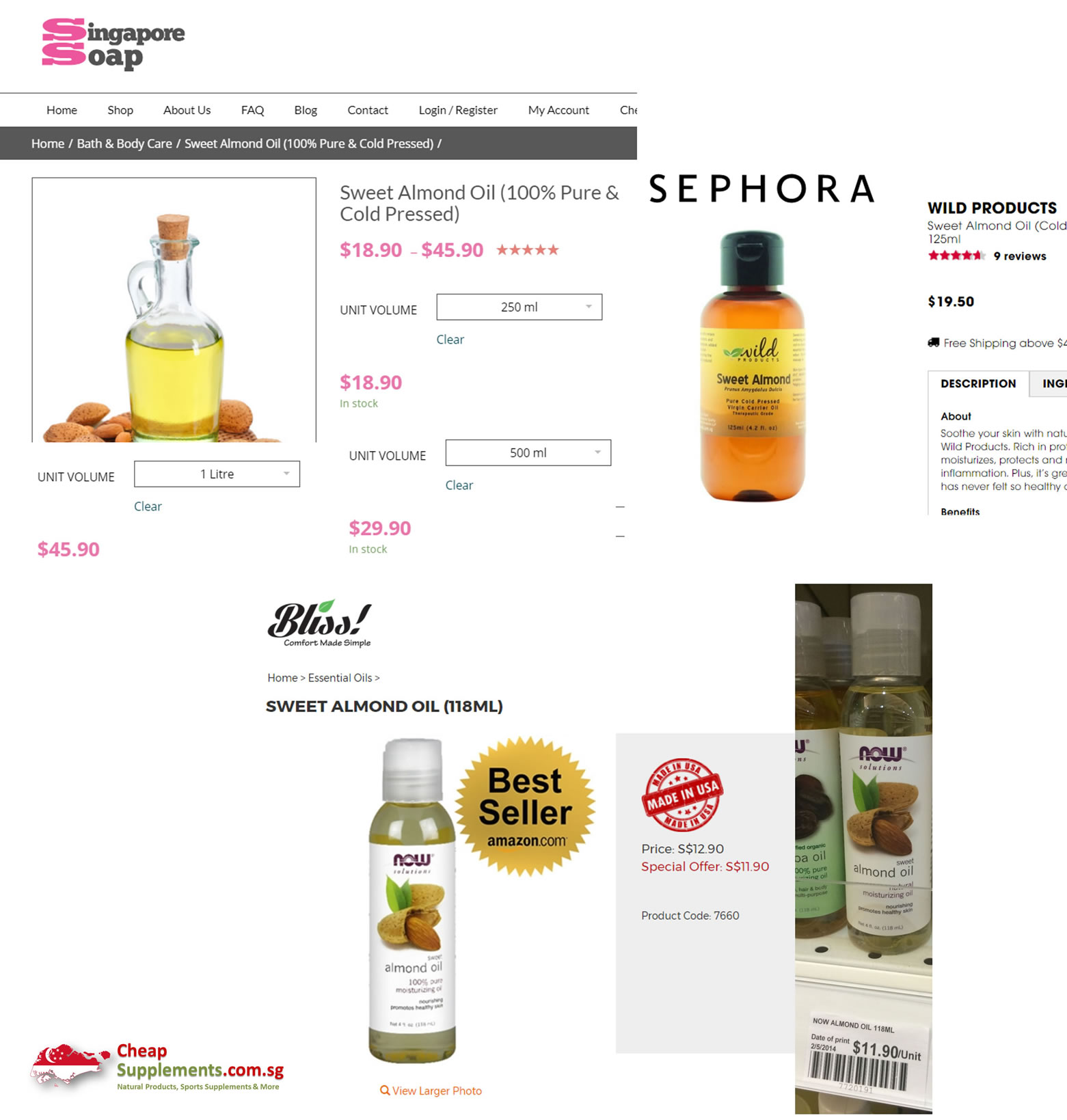 Where to buy
Below are the prices from iHerb. With the comparisons below, you can see why CheapSupplement.com.sg recommends iHerb for all your supplement and organic purchases. All prices before coupon code discount, bulk discount, special offers and loyalty rebates.

Now Foods
Solutions, Almond Oil
100% Pure Almond Oil is an all-natural oil that's perfect for nourishing and reviving any skin type. Almond Oil is easily absorbed and won't clog pores, promoting clear, soft, healthy skin.
Lazada.sg, 474ml (8oz): S$22.90
4 Seasons Organic Market: Organic, 118ml (4 fl oz): S$32
118ml (4 fl oz) iHerb: S$ 4.47 or less
473ml (16 fl oz) iHerb: S$ 11.67 or less
Organic, 237ml (8 fl oz) iHerb: S$ 21.56 or less
Almond/Lavender Massage Oil, 473ml (16 fl oz) iHerb: S$ 13.46 or less


Aura Cacia
Natural Skin Care Oil, Nurturing Sweet Almond
Sweet almond oil has a rich, skin nurturing consistency that provides a nice glide during massages. It is excellent in bath and after-shower applications, and especially appropriate for dry skin care.
118ml (4 fl oz), iHerb: S$ 5.51 or less
473ml (16 fl oz) iHerb: S$ 16.54 or less


Life Flo Health
Skin Care, Pure Almond Oil
473 ml (16 fl oz)
Pure Almond Oil is truly a versatile oil with numerous benefits from culinary to cosmetics. Considered by many to be the most popular base for massage oils due to its emollient feel and absorbability. Perfect for nourishing and reviving any skin type without clogging pores or leaving a greasy after-feel. Cold pressed and food grade.
iHerb: S$ 14.16 or less
Click to see more Almond Oil selections at iHerb
Remember, there are 4 additional ways to save!:
5% Discount: New and existing iHerb customers get 5% Discount with promo code 'ZEL439'!

Just use the links here to auto-apply the iherb promo code, or manually enter it when you checkout

Free Shipping: Get Free Shipping if the order is more than S

$ 53.27

 (US$40)!
5% Loyalty Rebate: Get an additional 5% loyalty rebate that can be used on your next order within 60 days!
Avoid GST: Just make sure the total value of the order (including shipping) is less than S$400!
Click to start saving now! (Why iHerb)