(Discounts and Price Comparisons Below)
What is CLA
Conjugated Linoleic Acid is a polyunsaturated fatty acid found naturally in milk, meat, some mushrooms, and is produced from safflower and sunflower oils for supplements. Meat, milk and eggs from grass fed animals (as opposed to grain fed ones) will have significantly higher levels of CLA. Out of all the meats, Kangaroo meat may have the highest concentration.
CLA for Weight Loss and Slimming
CLA may help with weight loss by improving the body's muscle to fat ratio. While not 'weight loss' per se, a decrease of fat and an increase in lean muscle is definitely an improvement.
A small study involving a group of overweight women lost 9% body fat in one year's time with little change to their lifestyles. Other studies so far hasn't had that large an impact, but the change is generally the same.
These studies also show changes in cholesterol levels. The results seem to vary however, and the changes, for the moment, have been deemed to be statistically insignificant.
CLA for Body Building
Conjugated Linoleic Acid's ability to improve a body's muscle to fat ratio may have led to the belief that it helps with body building activities. Unfortunately, no studies have been done to show if this is conclusive.
CLA for Cancer Prevention
In controlled animal and test tube studies, Conjugated Linoleic Acid has shown some ability inhibit cancer growth.
A diet with dairy and meat from high CLA sources has been associated with a 39% reduction in colorectal cancer in women. It may also be able to inhibit breast cancer growth. Whether this applies to Conjugated Linoleic Acid in supplement form remains unknown however.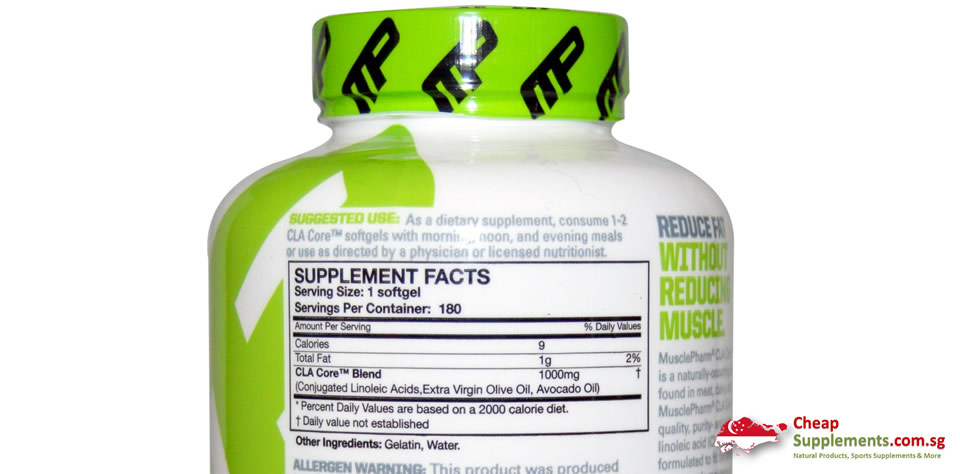 How to choose CLA supplements
As always, not all products are made equal. Pay special attention to products that uses 'blends' or 'formulas'. For example, MuslePharm's CLA Core consists 1000mg of a 'blend' Conjugated Linoleic Acid, Extra Virgin Olive Oil and Avocado Oil.
It was found to contain only about 38.5% of Conjugated Linoleic Acid.
There's nothing wrong with this blend. It might even be a good blend. The problem is most people would see this and think that they'd be getting most of the 1000mg as CLA.
So, if you're only interested in the main ingredient, avoid 'blends' and 'formulas', and stick to products that focus on Conjugated Linoleic Acid as the product's constituent. If you're still interested in the other products, focus on those who give an accurate breakdown of what are in those blends, like Now Food's CLA Extreme.
CLA Side Effects and Risks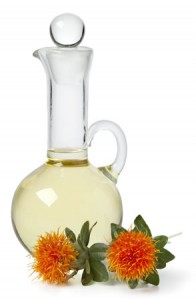 Conjugated Linoleic Acid may reduce insulin sensitivity. This study was done only with 2 isomers of CLA however. As CLA supplements tend to have a range of different isomers, it's unclear if they will have the same effect. To be safe however, diabetics, those at risk of diabetes, and people with metabolic syndrome, should avoid this supplement.
Breastfeeding mothers may want to avoid using this as well since it has been shown to reduce fat content in breast milk.
As of February 2016, there has been 3 cases of acute inflammation of liver reported around the world, stemming from the use of Conjugated Linoleic Acid. All cases improved after stopping its usage, though 1 had to undergo liver transplant.
If you take any medicines regularly, talk to your doctor before you start using CLA supplements. They may interact with drugs for schizophrenia and other mental disorders.
CLA supplements may cause upset stomach, nausea, and diarrhea, though these symptoms can be reduced when consumed with protein, and usually decreases after about 2 weeks of usage.
CLA is generally safe in healthy individuals. However, as always, practice prudence and always check with a doctor is you feel that something isn't right.
Prices around Singapore
For comparisons sake, here are some products that can be found around Singapore, from both offline and online supplement stores. Click to enlarge it.

Where to buy
Below are the prices from iHerb. With the comparisons above, you can see why CheapSupplement.com.sg recommends iHerb for all your supplement and organic purchases.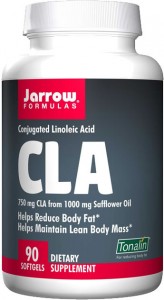 Jarrow Formulas
CLA, Conjugated Linoleic Acid
90 Softgels
Jarrow Formulas CLA is derived from safflower oil. It has been shown in animal experiments to assist in enhancement/retention of lean body mass (muscle). Based on Tonalin, an exclusively licensed product of BASF Personal Care and Nutrition GmbH.
iHerb: S$ 18.42  (US$13.43) or less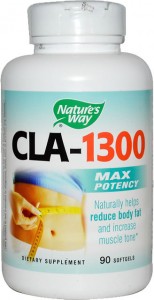 Nature's Way (aka Green Life in Singapore)
CLA-1300, Max Potency
90 Softgels
Naturally Helps Reduce Body Fat and Increase Muscle Tone. 1300 mg Max Potency for Optimal Results. Contains the patented Clarinol formula providing 78-80% CLA derived from natural safflower oil.
Guardian/Watsons: $89.90, $62/bottle after 3 for 2 offer.
iHerb: S$ 29.36  (US$21.41) or less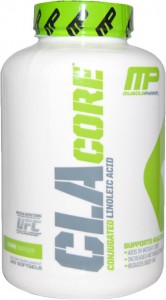 Muscle Pharm
CLA Core – Blended with Extra Virgin Olive Oil & Avocado Oil

MusclePharm CLA Core is formulated to fit the fat-reducing, lean-muscle maintenance needs of an individual.
Lazada SG: 180 softgels, $51.95
Nutrifirst/Gymshack: 90 softgels, $30, 180 softgels, $45
iHerb: 90 softgels, S$ 21.59  (US$15.74) or less
iHerb: 180 softgels, S$ 35.37  (US$25.79) or less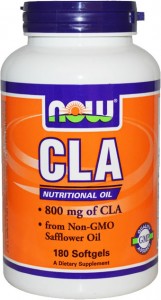 Now Foods
CLA, 800 mg
180 Softgels
Changes in agricultural practices have resulted in less Conjugated Linoleic Acid in our foods, decreasing its availability in modern diets. Therefore using a supplement is recommended to obtain its beneficial effects. NOW CLA is derived from Non-GMO safflower Oil and delivers 800 mg CLA per softgel.
tsw.com.sg: 90 softgels, $26.10 (offer)
iHerb: 180 softgels, S$ 31.45  (US$22.93) or less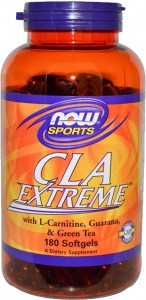 Now Foods
Sports, CLA Extreme
CLA Extreme combines the benefits of L-Carnitine (Carnipure), for efficient cullelar energy production, Guarana, which increases alertness and energy usage, and Green Tea Extract (GTE), which help promote healthy fat metabolism and energy production, especially when used along with an exercise program and healthy diet.
iHerb: 90 softgels, S$ 27.95  (US$20.38) or less
iHerb: 180 softgels, S$ 52.43  (US$38.23)or less
Click to see more Conjugated Linoleic Acid products at iHerb
Remember, there are 4 additional ways to save!:
5% Discount: New and existing iHerb customers get 5% Discount with promo code 'ZEL439'!

Just use the links here to auto-apply the iherb promo code, or manually enter it when you checkout

Free Shipping: Get Free Shipping if the order is more than S

$ 82.28

 (US$60)!
5% Loyalty Rebate: Get an additional 5% loyalty rebate that can be used on your next order within 60 days!
Avoid GST: Just make sure the total value of the order (including shipping) is less than S$400!
Click to start saving now! (Why iHerb)
References: ConsumerLab, Wikipedia, WebMD 1 2