Until Thursday, 25th January 2018, 2pm, Combine 3 offers:
10% off ALL Bath and Beauty Products on iHerb
10% off All Korean Beauty Brands on iHerb with Coupon Code BBTEN
Get additional 5% discount with coupon Code ZEL439 (Reusable for all future orders)!
Remember, you get a 5% loyalty credit on top of all these discounts as well!
Click here to automatically apply all coupon codes!
Remember, this is discount ON TOP OF iHerb's fantastic Price!
Example: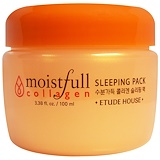 Etude House
Collagen Sleeping Pack
Local Price: S$22.90
iHerb Price: S$15
iHerb Price After 25% Discount: Less than S$11!
Remember, there's Free Shipping if the order is more than S$ 53.79!