(Offers and Discounts Below)
What is Castor Oil?
Castor is is a vegetable oil derived from the seeds of the Castor Oil Plant, which has its origins in India. It has a unique chemical composition, as it's a triglyceride, comprised of fatty acids, 90 percent of which is ricinoleic acid.
Uses for Castor Oil
In the past, Castor Oil is used for its perceived medicinal properties, and is often used in countless home remedies for a wide variety of ailments. It's also traditionally used places like India and Nepal as a food preservative, preventing grains and legumes from going bad.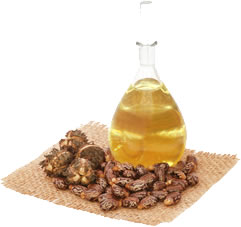 This oil has a large variety of modern uses, from skin care products, to mold inhibitors, and as food additives and flavouring, and even as ingredients in some modern medicines just to name a few.
If ingested, it's sometimes used as a laxative. It has been traditionally used to help induce labour as well, even though there's no scientific proof to show its effectiveness. Nausea is also commonly reported by the women who tried to use it this way.
It seems to be most effective when used externally, on the body.
The anti-bacterial, anti-fungal and anti-inflammatory properties of the oil seem to help provide relief for people with skin problems like keratosis, dermatosis, wound healing, acne, ringworm, warts and other skin infections, sebaceous cysts, itching, and even dandruff and hair loss.
It also seems to enhance the obsorption of other active ingredients into the skin, hence its inclusion in many topical creams.
On its own, it's often used as massage oils, for general skin/scalp care, and in home made soaps.
Castor Oil Side Effects
Women who used it to induce labour often report nausea.
While it may work as a laxative, the reason it works is because it 'irritates' the intestinal walls. If you suffer from cramps, irritable bowel, ulcers, diverticulitis, hemorrhoids, colitis, prolapses, or have recently undergone surgery, you should probably avoid castor oil due to possible adverse reactions.
Castor seeds contain ricin, a toxic protein. It's rendered harmless in the processing of castor seeds into castor oil. Consumer castor oil products are safe to use, however harvesting castor seeds poses a human health risk.
Where to buy Castor Oil 
Below are the prices from iHerb. With the prices below, you can see why CheapSupplement.com.sg recommends iHerb for all your supplement and organic purchases.

Now Foods
Solutions, Castor Oil
473ml (16 fl oz)
100% Pure Castor Oil is expeller-pressed from the seed of Ricinus communis and is virtually odorless and tasteless. While it's applicable in many other areas of wellness, Castor Oil is considered by many to be one of the finest natural skin emollients available today.
lazada.sg:  S$22.90
iHerb: S$ 9.15 or less

Aura Cacia
Organic, Skin Care, Castor Oil
118ml (4 fl oz)
Preserve moisture while leaving the skin feeling nourished. Cold pressed pure essential oils from 100% pure botanical ingredients. USDA Organic. Certified Organic by QAI.  Not Tested on Animals. No Synthetic Ingredients. Paraben and Petroleum-Free.
iHerb: $ 5.26 or less

Heritage Products
Castor Oil, The Palma Christi
Doctors at the former A.R.E. Clinic, under the guidance of Dr. William McGarey, used castor oil for virtually every aspect of health. In response to customer inquiries, our pure castor oil can be taken internally.
Lazada.sg: 120ml, S$12. 240ml, S$13.
iHerb: 120ml (4 fl oz), S$ 5.27 or less
iHerb: 240ml (8 fl oz), S$ 6.47 or less
iHerb: 480ml (16 fl oz), S$ 10.47 or less
iHerb: 960ml (32 fl oz), S$ 16.22 or less
iHerb: Organic, 480ml (16 fl oz), S$ 16.54 or less
Click here to see the best selling Castor Oil products at iHerb
Remember, there are 4 additional ways to save!:
5% Discount: New and existing iHerb customers get 5% Discount with promo code 'ZEL439'!

Just use the links here to auto-apply the iherb promo code, or manually enter it when you checkout

Free Shipping: Get Free Shipping if the order is more than S

$ 79.90

 (US$60)!
5% Loyalty Rebate: Get an additional 5% loyalty rebate that can be used on your next order within 60 days!
Avoid GST: Just make sure the total value of the order (including shipping) is less than S$400!
Click to start saving now! (Why iHerb)
References: articles.mercola.com, wellnessmama, Wikipedia, singaporesoap