What is Glucosamine and why do people take it?
Glucosamine is a natural chemical compound found in the body that helps keep the cartilage in joints healthy. But natural glucosamine levels drop as people age however. This can lead to gradual deterioration of the joint.
Glucosamine supplements are most often used for joint health maintenance and the easing of joint pain caused by arthritis.
Glucosamine Sulphate (2KCI) vs Glucosamine Hydrochloride (HCL)
While most modern day research about Glucosamine and its benefits on joint health is based on the Sulphate, it is generally accepted that both Glucosamine Sulphate and Glucosamine Hydrochloride are of similar effectiveness.
Glucosamine Sulphate is derived from shellfish while Glucosamine Hydrochloride is from vegetable sources, so Glucosamine Hydrochloride might be more suitable for various lifestyle choices, especially if you're vegetarian or vegan.
Chondroitin, MSM and Hyaluronic Acid
Good Glucosamine supplements also contain Chondroitin and MSM. They are claimed to help with the support structure of joint cartilage and may aid in reducing swelling and pain. Note the Chondroitin are mostly from animal sources.
Hyaluronic Acid which acts as a joint 'lubricant'. It's also the same acid used in joint injections by Osteoarthritic patients.
Vegetarian Glucosamine Supplements
Those who prefer glucosamine supplements with ingredients from non-animal sources should avoid products with Glucosamine Sulphate (2KCI)  and Chondroitin, and choose products with Glucosamine Hydrochloride (HCL) and MSM. You can read more about vegetarian glucosamine supplements here.
Prices in Singapore
As one can expect, Glucosamine supplement prices in Singapore are quite high. A basic 200-240 capsule bottle of Glucosamine without MSM or Chondroitin at NTUC Fairprice and Watsons costs upwards of $70, with most prices hovering around $99.
Where to Buy
Naturally, CheapSupplements.com.sg recommends iHerb. Expect to spend half or less than what you'll get here in Singapore, from trusted brands like Doctor's Best and Now Foods.
Here are some of the best sellers: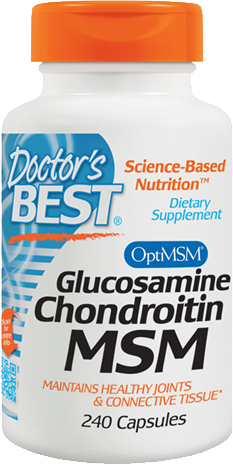 Doctor's Best
Glucosamine Chondroitin MSM
240 Capsules
Contains sodium-free potassium stabilized glucosamine sulfate, bovine chondroitin sulfate plus pure MSM (OptiMSM).
iHerb: US$25.29  (SGD$ 33.68) or less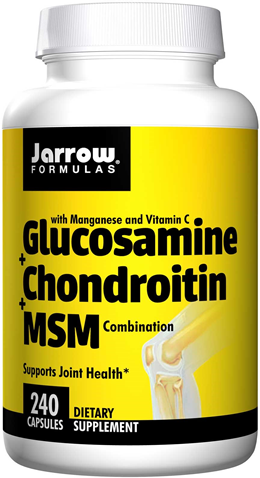 Jarrow Formulas
Glucosamine + Chondroitin + MSM Combination
240 Capsules
Provides efficacious quantities of glucosamine sulfate, chondroitin sulfate, and MSM combined with vitamin C and manganese for optimizing joint health.
iHerb: US$29.87  (SGD$ 39.78) or less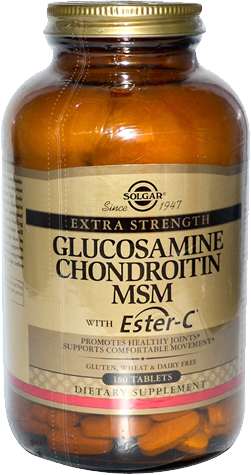 Solgar
Glucosamine, Chondroitin, MSM with Ester-C
180 Tablets
Extra Strength Glucosamine Chondroitin MSM with Ester C Tablets is ideal for anyone requiring extra nutritional support for their cartilage and joints.
iHerb: US$33.92  (SGD$ 45.17) or less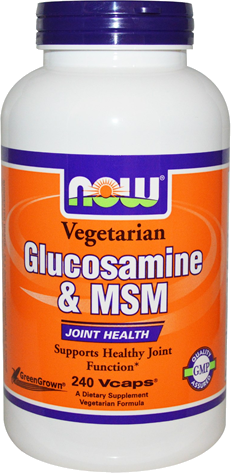 Now Foods
Glucosamine & MSM, Vegetarian
240 Vegetable capsules
Synergistic formula suitable for vegetarians, as it contains only Glucosamine from a vegetarian source and not from shellfish.
iHerb: US$25.48  (SGD$ 33.93) or less
Click to see more Glucosamine, Vegetarian Glucosmine, and Glucosamine + Hyaluronic Acid products at iHerb
Remember, there are 4 additional ways to save!:
5% Discount: New and existing iHerb customers get 5% Discount with promo code 'ZEL439'!

Just use the links here to auto-apply the iherb promo code, or manually enter it when you checkout

Free Shipping: Get Free Shipping if the order is more than S

$ 79.90

 (US$60)!
5% Loyalty Rebate: Get an additional 5% loyalty rebate that can be used on your next order within 60 days!
Avoid GST: Just make sure the total value of the order (including shipping) is less than S$400!