Joint health is a growing concern for everybody, young and old. A growing number of people are using supplements to help with issues like joint pains from Osteoarthritis, as well as a preventive measure against joint wear and tear from an active lifestyle and aging, maintaining their joint health while it's still good.
The most common way to address this is the use of Glucosamine supplements. That in itself is not enough however, and it should be used together with Chondroitin and Methylsulfonylmethane (MSM). Thankfully, most joint health supplements on the market have all three as part of its formula.
Glucosamine Sulphate (2KCI) vs Glucosamine Hydrochloride (HCL)
Sulphate (British) & Sulfate (Americanised) are different spellings for the same word.
Most modern day research about Glucosamine and its benefits on joint health is based on the Sulphate. While there is no research that directly compares the effectiveness of the 2, it is generally accepted that both Glucosamine Sulphate and Glucosamine Hydrochloride are of similar effectiveness. There are many who still prefer the Sulphate for 3 reasons:
1. Glucosamine Hydrochloride is cheaper to produce, so some might feel that it's 'inferior'.
2. Sulphur is important for cartilage health, so the sulphur present in Glucosamine Sulphate is thought to be more effective
3, Glucosamine Sulphate is 'Proven' as most research is based on it
There is another important distinction between the two; Glucosamine Sulphate is derived from shellfish while Glucosamine Hydrochloride is from vegetable sources. So while the effectiveness of the 2 is still up for debate, I personally feel that the ultimate decision lies in your lifestyle choices. If you're vegetarian, vegan, or if you simply prefer a non animal based product, you'll go for Glucosamine HCL.
Why Chondroitin and MSM
If Glucosamine is the raw material used for the building and repair of your cartilage, Chondroitin  would be its support structure.
Water is important in strengthening the cartilage and improving the joint's shock absorbing capacity, so Chondroitin acts like a 'water magnet', keeping your joints strong and flexible. Do not however that most Chondroitin products in the market are from animal origins.
MSM is an form of sulphur that allows it to be readily absorbed by the body. Sulphur, so called the 'beauty mineral' as it keeps the hair glossy and smooth and keeps the complexion clear and youthful, acts as a 'detoxifier' for cells and in this case, helps to reduce the swelling and pain in the joints. While not as important for joint maintenance, MSM is useful for remedying joint pains.
The combination of these 3 ingredients provides a holistic approach to joint health, for both maintenance and relief.
Vegetarian Glucosamine Supplements
Some products are not suitable for vegetarians. You can read more about differentiating vegetarian from non vegetarian glucosamine supplements here.
Osteoarthritis And Hyaluronic Acid
The joint trio of Glucosamine, Chondroitin and MSM is enough for most people. Those with Osteoarthritis however may consider getting supplements also contains Hyaluronic Acid which acts as a joint 'lubricant'. It's also the same acid used in joint injections.
Local Prices for Comparison:
GNC TriFlex
Glusamine HCL, Chondroitin, MSM, 1.6mg Hyaluronic Acid, 240 capsules
GNC Singapore – S$221.50 or S$177.20 (VIP 20% Off)
Kordel's
Joint Food (Glucosamine Sulphate, Chondroitin) + MSM, 200 capsule package
Watsons / Guardian Singapore – S$120.80
Recommended Products:
Here are some of the best sellers: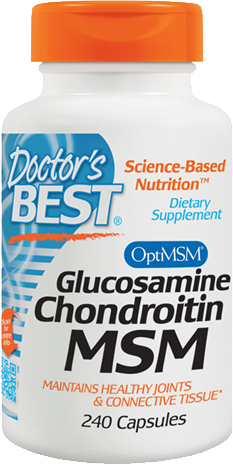 Doctor's Best
Glucosamine Chondroitin MSM
240 Capsules
Contains sodium-free potassium stabilized glucosamine sulfate, bovine chondroitin sulfate plus pure MSM (OptiMSM).
iHerb: US$26.99  (SGD$ 35.94) or less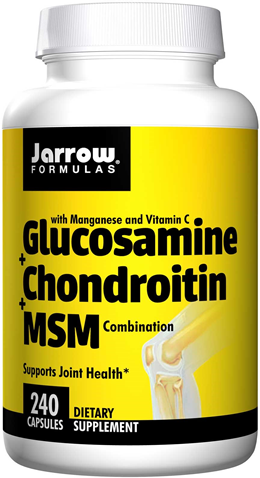 Jarrow Formulas
Glucosamine + Chondroitin + MSM Combination
240 Capsules
Provides efficacious quantities of glucosamine sulfate, chondroitin sulfate, and MSM combined with vitamin C and manganese for optimizing joint health.
iHerb: US$29.87  (SGD$ 39.78) or less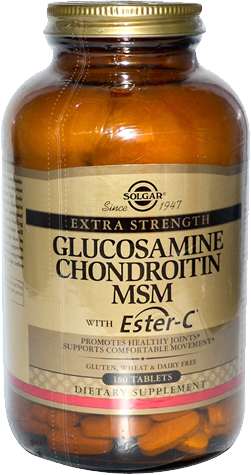 Solgar
Glucosamine, Chondroitin, MSM with Ester-C
180 Tablets
Extra Strength Glucosamine Chondroitin MSM with Ester C Tablets is ideal for anyone requiring extra nutritional support for their cartilage and joints.
iHerb: US$33.92  (SGD$ 45.17) or less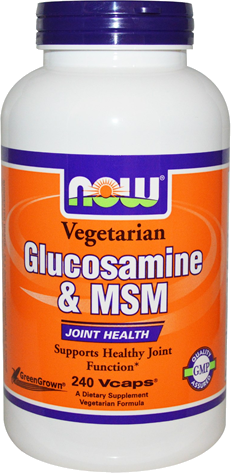 Now Foods
Glucosamine & MSM, Vegetarian
240 Vegetable capsules
Synergistic formula suitable for vegetarians, as it contains only Glucosamine from a vegetarian source and not from shellfish.
iHerb: US$25.48  (SGD$ 33.93) or less
Click to see more Glucosamine, Vegetarian Glucosmine, and Glucosamine + Hyaluronic Acid products at iHerb
Remember, there are 4 additional ways to save!:
5% Discount: New and existing iHerb customers get 5% Discount with promo code 'ZEL439'!

Just use the links here to auto-apply the iherb promo code, or manually enter it when you checkout

Free Shipping: Get Free Shipping if the order is more than S

$ 79.90

 (US$60)!
5% Loyalty Rebate: Get an additional 5% loyalty rebate that can be used on your next order within 60 days!
Avoid GST: Just make sure the total value of the order (including shipping) is less than S$400!