(Discounts and Price Comparisons Below)
Green Life in Singapore = Nature's Way in the US
Nature's Way's products are sold in Singapore under the name of 'Green Life' because there is already an Australian supplement brand here called Nature's Way as well.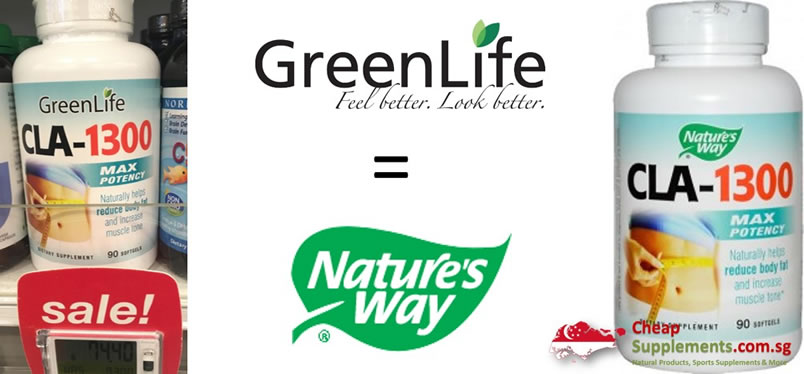 A Family Crisis Sets Off a Herbal Renaissance
In 1968, Tom Murdock, the eventual founder of Nature's Way, desperately searched for a way to improve his wife's health. After relying on conventional options without success, Tom took a leap of faith in traditional Native American knowledge of the healing power of plants growing near their Arizona home. As a result, his wife's health improved and she lived another 25 years.
Tom's quest to help his wife led to an herbal renaissance in America and the creation of Nature's Way. By 1969, Tom was providing eight new herbal remedies. Now, many  years later, Nature's Way is the preeminent brand of quality dietary supplements.
Rooted In Tradition and Science
Focus has always been on safety and relying on proof of product effectiveness. Striking a balance between traditional medicine and modern science, Nature's Way is a unique dietary supplement company that can offer traditional herbal supplements, as well as those that are backed by science.
To bring you the quality you deserve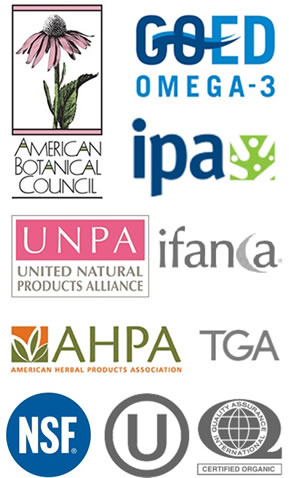 As the first major U.S. dietary supplement company to be certified as an organic processor, the relentless pursuit for quality is evident in the products, which are all carefully scrutinized and tested while adhering to Good Manufacturing Practices (GMP).
Building Towards A Healthy Future
As one of the most technologically advanced dietary supplement manufacturers in the U.S., Nature's Way continues to stay focused on product innovation, pushing the boundaries on quality research and testing. Over 500 premium nutritional products are available, including single herbs and herbal extracts, homeopathic remedies, vitamins, minerals and specialty formulas.
Halal Certified Manufacturing Facilities
The facility in which Enzymatic Therapy®, Nature's Way®, and Integrative Therapeutics™ brands are manufactured is a Halal-certified facility. The Green Bay facility has received Halal certification through the Islamic Food and Nutrition Council of America (IFANCA). Halal certification by IFANCA certifies both product formulation and manufacturing facilities as being in compliance with Halal standards.
Prices around Singapore
For comparisons sake, here are some products that can be found around Singapore. Are they cheaper? See for yourself. Click to enlarge some example deals.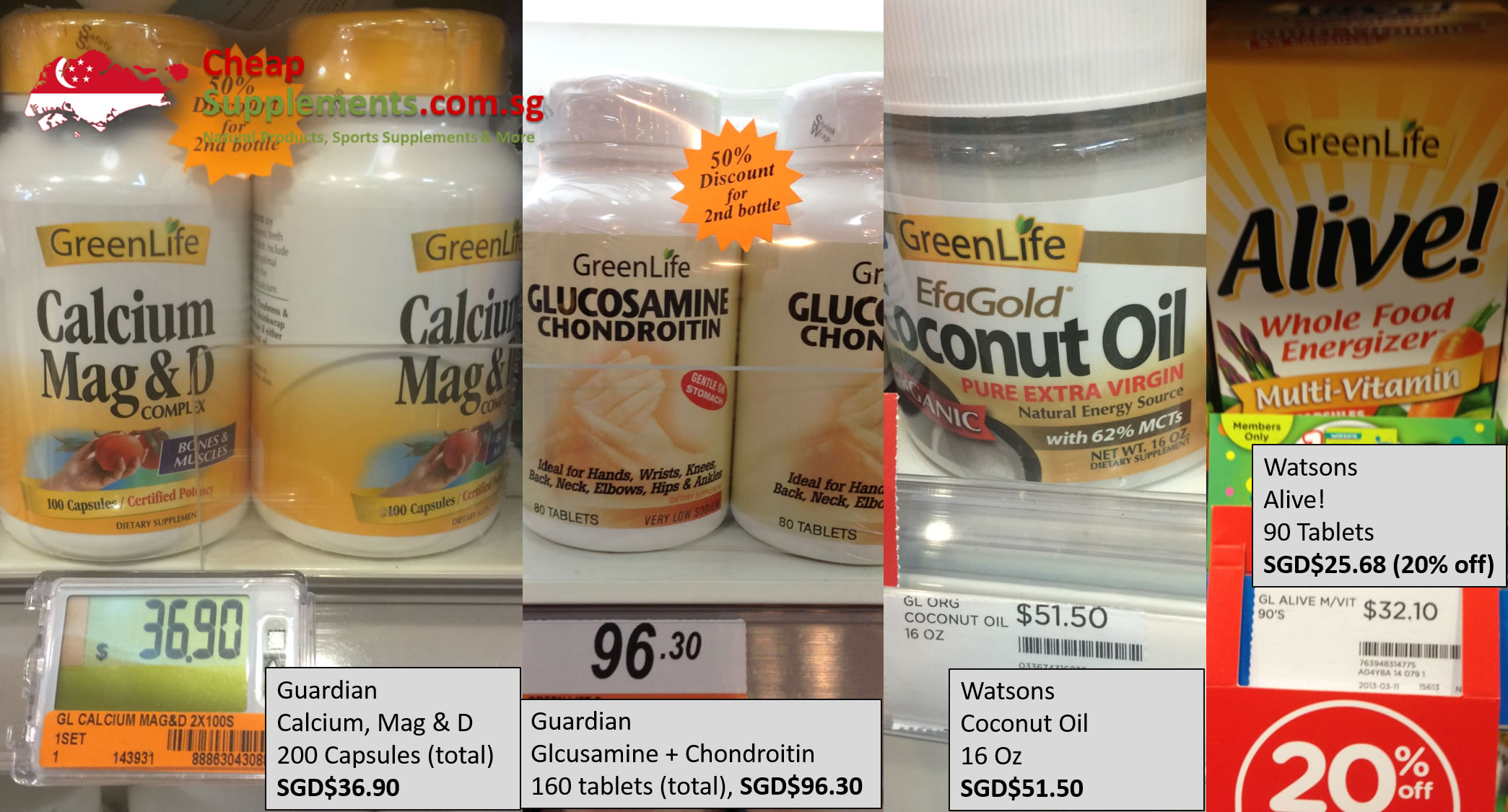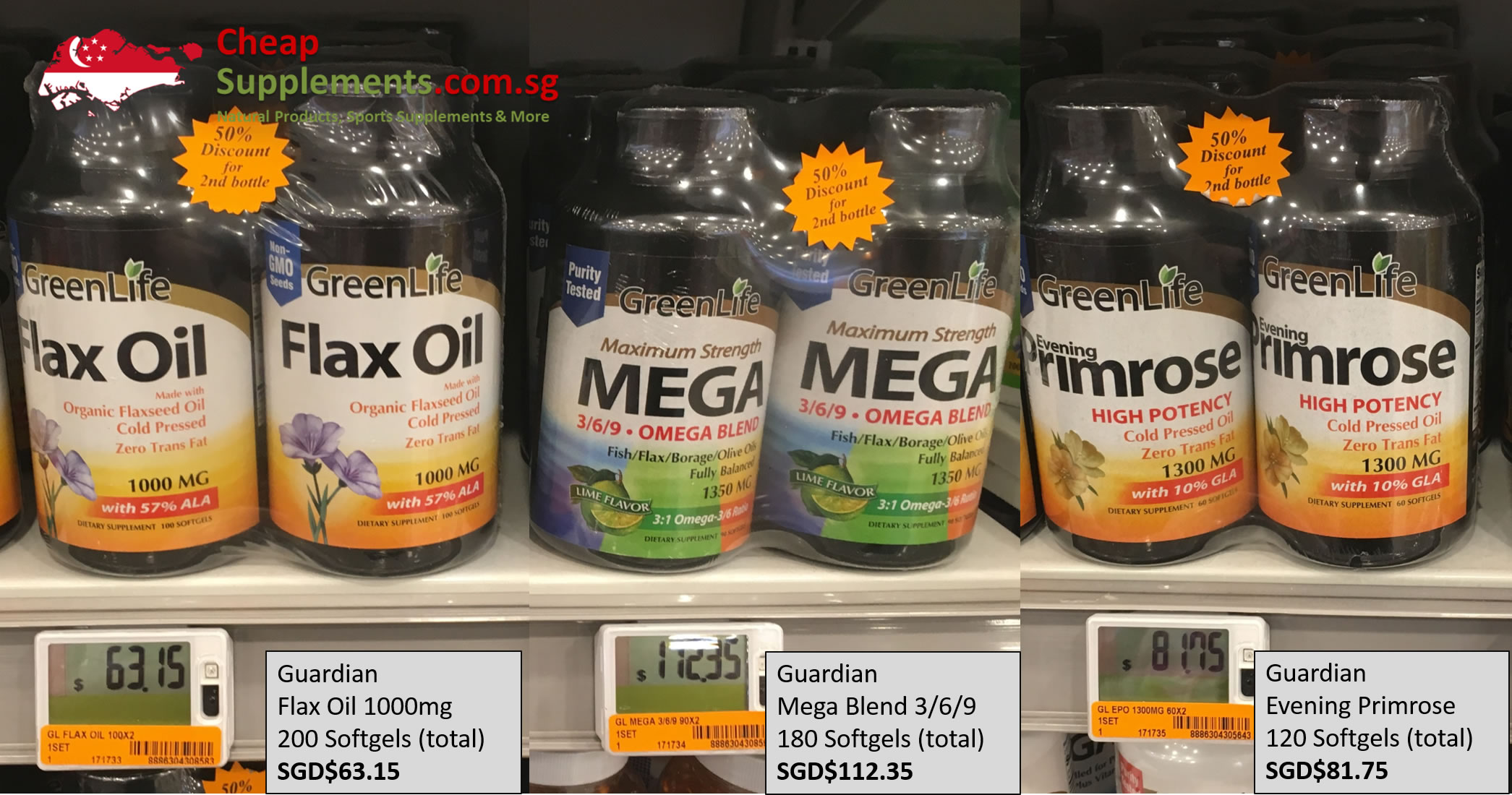 Where to buy
Below are the prices from iHerb. With the comparisons above, you can see why CheapSupplement.com.sg recommends iHerb for all your supplement and organic purchases.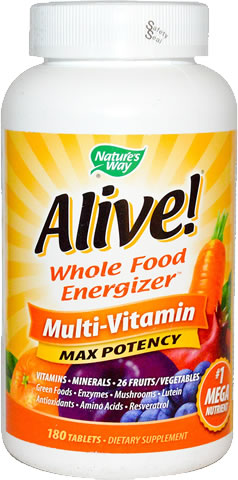 Nature's Way (Green Life Singapore)
Alive! Max Potency Multi-Vitamin
Whole food multivitamin formula: 26 fruits & veggies, 12 digestive enzymes, 14 green foods, 25 vitamins & minerals, 18 amino acids, 12 mushrooms (organic), 40+ antioxidant sources.
Watsons: 90 tablets, $32.10 ($25.68 after 20% off)
iHerb: 180 tablets US$31.49 (SGD$ 43.19) or less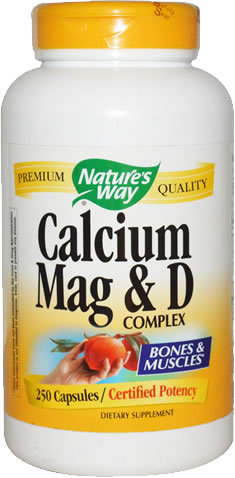 Nature's Way (Green Life Singapore)
Calcium Mag & D Complex
Calcium & Magnesium are essential for healthy bones, teeth and muscle function. Both include an advanced chelate complex for optimal absorption. Vitamin D assists in the proper transport and retention of calcium.
Guardian: 200 Capsules, $36.90
iHerb: 250 Capsules US$15.11 (SGD$ 20.72) or less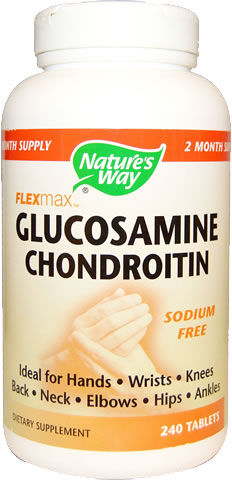 Nature's Way (Green Life Singapore)
FlexMax, Glucosamine Chondroitin, Sodium Free
Glucosamine and Chondroitin are two of the most popular supplements for supporting healthy joints. Ideal for individuals concerned about high blood pressure because it's sodium free.
Guardian: 160 tablets, $96.30
iHerb: 240 Tablets, US$41.57 (SGD$ 57.01) or less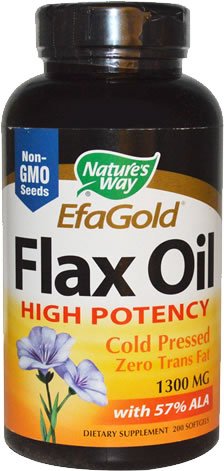 Nature's Way (Green Life Singapore)
EfaGold, Flax Oil
Nature's Way EFAGold is the highest quality Flax Seed Oil—guaranteed to contain 57% alpha-linolenic acid (ALA). Non-GMO Seeds, Cold Pressed, Zero Trans Fat.
Guardian: 1000mg, 100 softgel, $31.58 ($63.15 for 2×100 softgel bundle)
iHerb: 1000mg, 100 softgel, US$6.92 (SGD$ 9.49) or less
iHerb: 1300mg, 200 softgel, US$15.11 (SGD$ 20.72) or less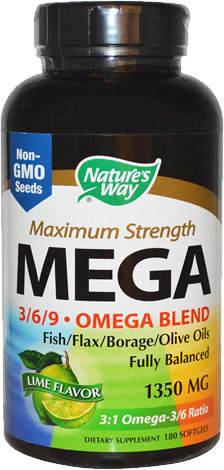 Nature's Way (Green Life Singapore)
Maximum Strength Mega 3/6/9, Omega Blend, Lime Flavor, 1350 mg
180 Softgels
Nature's Way Mega 3/6/9 Omega Blend is the most complete source of essential fatty acids for healthy skin, joints and cardiovascular function. Supportive but not conclusive research shows that consumption of EPA and DHA Omega-3 fatty acids may reduce the risk of coronary heart disease.
Guardian: $112.35
iHerb: US$26.14 (SGD$ 35.85) or less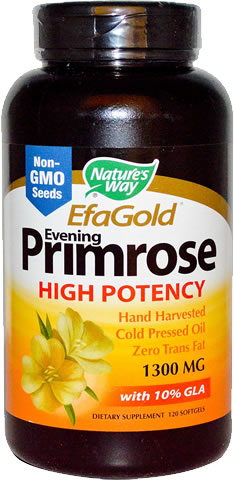 Nature's Way (Green Life Singapore)
EFAGold, Evening Primrose, High Potency, 1300 mg
120 Softgels
Nature's Way EFAGold is the highest quality Evening Primrose Oil—guaranteed to contain 10% gamma-linolenic acid (GLA). Hand harvested & hand cleaned seeds, gently pressed for oil and tested for purity and potency.
Guardian: $81.75
iHerb: US$19.52 (SGD$ 26.77) or less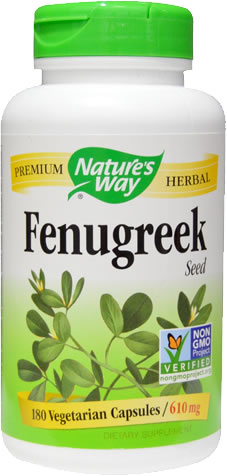 Nature's Way (Green Life Singapore)
Fenugreek Seed, 610 mg
Fenugreek (Trigonella foenum-graecum) is an annual Mediterranean & Asiatic herb with aromatic seeds. It is used around the world as a culinary spice and food that is soothing to the stomach. May also help promote breast milk production.
Guardian: 100 vegetable capsules, $25.68 (After 20% discount)
iHerb: 100 vegetable capsules, US$6.29 (SGD$ 8.63) or less
iHerb: 180 vegetable capsules, US$8.81 (SGD$ 12.08) or less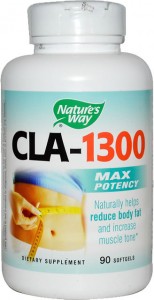 Nature's Way (Green Life Singapore)
CLA-1300, Max Potency
90 Softgels
Naturally Helps Reduce Body Fat and Increase Muscle Tone. 1300 mg Max Potency for Optimal Results. Contains the patented Clarinol formula providing 78-80% CLA derived from natural safflower oil.
Guardian/Watsons: $89.90, $62/bottle after 3 for 2 offer.
iHerb: US$21.41 (SGD$ 29.36) or less
Nature's Way (Green Life Singapore)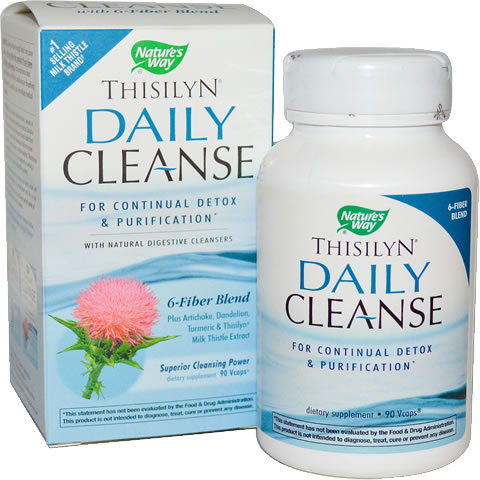 Thisilyn Daily Cleanse
90 vegetable capsules
Unlike a full body cleanse, Thisilyn Daily Cleanse is a one step formula for daily use with Easy Dispersion Fiber for comfortable capture of toxins throughout the bowel. Thisilyn Daily Cleanse promotes continual detox & purification.
Guardian: $60.22 ($120.45 for 2×90 capsule bundle)
iHerb: US$16.55 (SGD$ 22.70) or less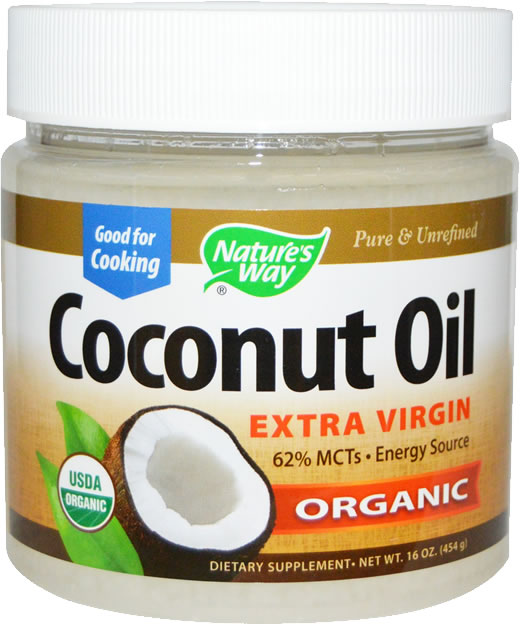 Nature's Way (Green Life Singapore)
Organic, Extra Virgin Coconut Oil
454g (16 oz)
Pure, Cold Pressed, Organic Coconut Oil, with 62% MCTs. Extra virgin, unrefined & unbleached from non-GMO coconuts; No solvents (hexane-free), non-hydrogenated, no trans fat.
Isetan: SGD$51.50 ($41.20 after 20% discount)
iHerb: US$12.49 (SGD$ 17.13) or less
Click to see more Nature's Way (Green Life Singapore) products at iHerb
Remember, there are 4 additional ways to save!:
5% Discount: New and existing iHerb customers get 5% Discount with promo code 'ZEL439'!

Just use the links here to auto-apply the iherb promo code, or manually enter it when you checkout

Free Shipping: Get Free Shipping if the order is more than S

$ 82.28

 (US$60)!
5% Loyalty Rebate: Get an additional 5% loyalty rebate that can be used on your next order within 60 days!
Avoid GST: Just make sure the total value of the order (including shipping) is less than S$400!