A Chia Seed Recipe From: A Happy Food Dance
I went a little crazy at the farmer's market this weekend and if you follow me on Instagram you know I pretty much bought most of the fruit available in California.
I can't help it!  Everything is just so ripe and juicy and bursting with flavor this time of year.  It doesn't help that you get to sample everything and it was before I had eaten breakfast.  It was pretty much a disaster waiting to happen.
So don't be surprised if the next week is full of strawberry, blueberries, raspberries, blackberries… okay, you get the idea.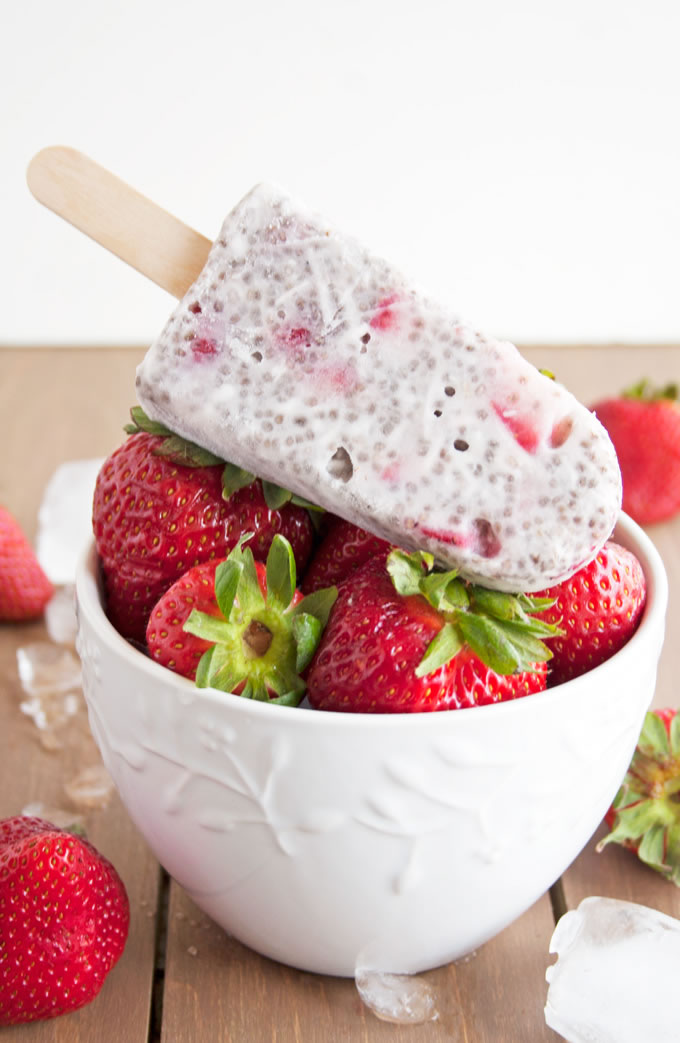 I'm starting off this week with some strawberry coconut chia seed popsicles.  I have loved chia seeds for a while now (remember the chia seed drink) and now I'm throwing them into a refreshing, summer-friendly popsicle that is light on calories and full on flavor.
These are super simple to whip up.  Simply mix all the ingredients together, let it sit in the refrigerator until the chia seeds start to expand, and then throw them into your popsicle molds.  If you don't have popsicle molds, you could easily pour the mixture into small paper cups with a popsicle stick inserted into the middle, then simply tear off the paper cup when ready to serve.
I can see myself making up a million different flavors and combinations of these delicious treats all summer long!
Chia Seed Recipe: Strawberry Coconut Chia Seed Popsicles
Serves: 10, each serving approximately 75 calories
Ingredients:
1 cup unsweetened almond milk
1 cup lite coconut milk
2 tablespoons chia seeds
1½ cups diced strawberries
¼ cup shredded coconut
2 tablespoons honey (more or less depending on taste)
Instructions:
Combined all the ingredients in a large container.
Stir until the chia seeds are evenly spread throughout.
Refrigerate 4 hours, or until the chia seeds begin to expand.
Pour mixture into popsicle molds and freeze overnight.
Note: I store these individually in sandwich size baggies.
Click to see more about Chia Seeds, or check out Chia Seed products at iHerb
Remember, there are 4 additional ways to save!:
5% Discount: New and existing iHerb customers get 5% Discount with promo code 'ZEL439'!

Just use the links here to auto-apply the iherb promo code, or manually enter it when you checkout

Free Shipping: Get Free Shipping if the order is more than S

$ 79.90

 (US$60)!
5% Loyalty Rebate: Get an additional 5% loyalty rebate that can be used on your next order within 60 days!
Avoid GST: Just make sure the total value of the order (including shipping) is less than S$400!