(Discounts and Price Comparisons Below)
What is Glucosamine and why do people take it?
Glucosamine is a natural chemical compound found in the body. Glucosamine helps keep the cartilage in joints healthy, but natural glucosamine levels drop as people age. This can lead to gradual deterioration of the joint. As a supplement, it is most often used to try to ease joint pain caused by arthritis.
Non Animal Sources for Vegetarian Glucosamine
Avoid supplements with Glucosamine Sulphate (2KCI) as it is derived from shellfish.
Vegetarian Glucosamine supplements use Glucosamine Hydrochloride (HCL) instead. Glucosamine Hydrochloride is made from vegetable sources, usually corn.
Chondroitin and MSM for Vegetarians
Good glucosamine supplements often include chondroitin and MSM to improve effectiveness.
Vegetarians should avoid products with chondroitin as they are only derived from animal sources.
Good vegetarian glucosamine supplements should include MSM as well since it's made from non-animal sources. MSM is an form of sulphur that allows it to be readily absorbed by the body. It acts as a 'detoxifier' for cells and in this case, helps to reduce the swelling and pain in the joints. While not as important for joint maintenance, it's useful for remedying joint pains.
Vegetarian Glucosamine Supplements 
So, to summarize, if you're looking for vegetarian glucosamine supplements that are free of animal products:
Avoid supplements with Chondroitin
Choose products with Glucosamine Hychlroride (HCL)
Feel free to get products with MSM
You can get more details about glucosamine supplements here.
Looking for supplements that include glucosamine, chondroitin and msm? Click here.
Where to Buy
Naturally, CheapSupplements.com.sg recommends iHerb. Expect to spend or less than half of what you'll get here in Singapore, from trusted brands like Now Foods and Jarrow's Formulas.
Here are some of the best selling Vegetarian Glucosamine Supplements: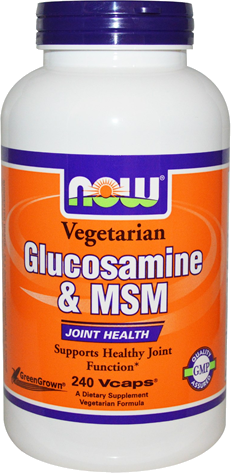 Now Foods
Glucosamine & MSM, Vegetarian
240 Vegetable capsules
Synergistic formula suitable for vegetarians, as it contains only Glucosamine from a vegetarian source and not from shellfish.
iHerb: US$25.48  (SGD$ 33.93) or less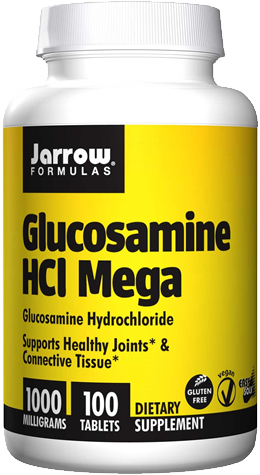 Jarrow Formulas
Glucosamine HCL Mega, 1000 mg 
100 Tablets
Glucosamine HCL is completely vegetarian/vegan and made in the USA by microbiological fermentation.
iHerb: US$12.85 (SGD$ 17.11) or less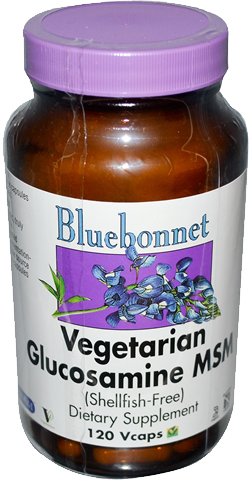 Bluebonnet Nutrition
Vegetarian Glucosamine MSM
120 vegetable capsules
Provides a synergistic, truly vegetarian blend of glucosamine hydrochloride Regenasure, derived from corn and pure patented OptiMSM
Nature's Farm: SGD$84.75 (SGD$59.33 each, for 2 or more after 30% discount)
iHerb: US$25.46  (SGD$ 34.04) or less
Click to see more Glucosamine or Vegetarian Glucosmine products at iHerb
Remember, there are 4 additional ways to save!:
5% Discount: New and existing iHerb customers get 5% Discount with promo code 'ZEL439'!

Just use the links here to auto-apply the iherb promo code, or manually enter it when you checkout

Free Shipping: Get Free Shipping if the order is more than S

$ 79.90

 (US$60)!
5% Loyalty Rebate: Get an additional 5% loyalty rebate that can be used on your next order within 60 days!
Avoid GST: Just make sure the total value of the order (including shipping) is less than S$400!