(Discounts and Price Comparisons Below)
Fenugreek has been used both as a medicine and as a food spice in Egypt, India, and the Middle East. It was traditionally recommended for increasing milk production in nursing women and for the treatment of wounds, bronchitis, digestive problems, arthritis, kidney problems, and male reproductive conditions.
Breast Milk, Breast Feeding and Lactation
There have been few studies of Fenugreek as a galactagogue (a food/drug that promotes production of a mother's milk), and results are still inconclusive. However, the consumption of Fenugreek has been traditionally used by breastfeeding Malay and Indian mothers in Singapore and it is still popular even today.
Glycemic Control And Insulin Resistance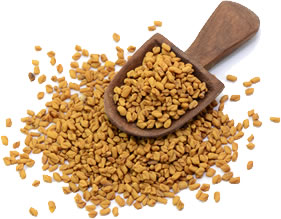 When mixed with food, Fenugreek appears to slow absorption of sugars in the stomach and stimulate insulin
A double blind placebo controlled study conducted have shown that the use of Fenugreek seeds may improve glycemic control and decreases insulin resistance in mild type 2 diabetic patients. It has a favorable effect on hypertriglyceridemia (associated with an increased risk of cardiovascular events and acute pancreatitis) as well.
Other studies suggests that healthy individuals didn't receive any pronounced benefits when it came to glycemic control and insulin resistance.
Cancer Prevention
Scientific results are limited, but there was a study where scientists demonstrated that fenugreek seed extract (FE) are toxic to certain cancer cells, but not normal cells, in controlled lab environments at least.
In animal studies, it also appeared to lessen the chance of developing colon cancer by blocking the action of certain enzymes.
Kidney Stones
Some evidence suggests that it may reduce the amounts of calcium oxalate in the kidneys. Calcium oxalate often contributes to kidney stones.
Other Supposed Benefits
Recently, there has been increased interest in using it as an aphrodisiac. Other traditional uses includes remedies for male erectile dysfunction, loss of appetite, constipation, and various kidney ailments. More studies need to be done however, as evidence for many purported benefits are extremely limited or non non-existent.
Where to get Fenugreek Products
CheapSupplement.com.sg recommends iHerb for all your supplement and organic purchases. Here are some of the best sellers: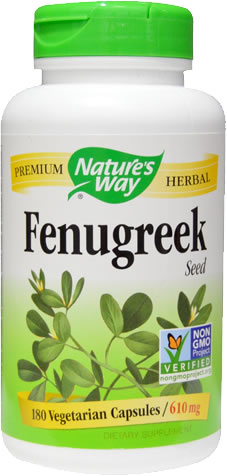 Nature's Way (Green Life Singapore)
Fenugreek Seed, 610 mg
Fenugreek (Trigonella foenum-graecum) is an annual Mediterranean & Asiatic herb with aromatic seeds. It is used around the world as a culinary spice and food that is soothing to the stomach. May also help promote breast milk production.
Guardian: 100 vegetable capsules, $25.68 (After 20% discount)
iHerb: 100 vegetable capsules, US$6.29 (SGD$ 8.38) or less
iHerb: 180 vegetable capsules, US$8.81 (SGD$ 11.73) or less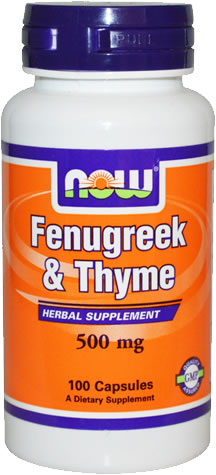 Now Foods
Fenugreek & Thyme, 500 mg
100 Capsules
One of the oldest herbs traditionally used in ancient Greece, Egypt, and China. Used in a variety of ways and can be added to hot water to make tea. T. vulgaris variety of Thyme is the cultivated form of wild thyme. It has also been used by herbalist for over 2,000 years and is an appropriate synergist with fenugreek.
iHerb: US$6.36 (SGD$ 8.47) or less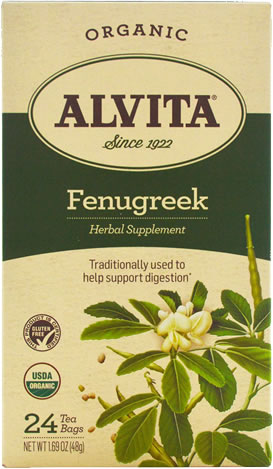 Alvita Teas
Organic Fenugreek Tea, Caffeine Free
24 Tea Bags, 48g (1.69 oz)
Alvita Fenugreek Tea is made with premium-quality, organic fenugreek seeds, and has a mildly bitter flavor with a hint of maple. Certified Kosher, and vertified Organic by QAI and USDA.
iHerb: US$4.58 (SGD$ 6.10) or less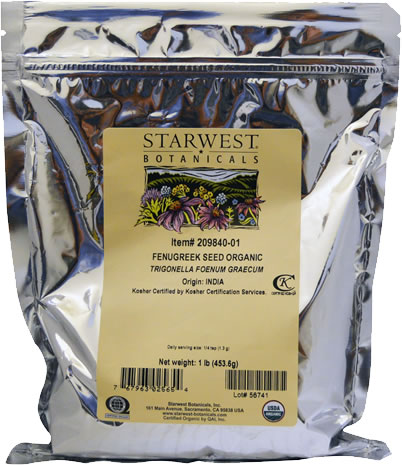 Starwest Botanicals
Organic Fenugreek Seeds
453.6 g (1 lb)
Bulk 1 pound Organic Fenugreek Seeds from India. Certified Kosher, and vertified Organic by QAI and USDA.
iHerb: US$6.08 (SGD$ 8.10) or less
Click to see more Fenugreek products at iHerb
Remember, there are 4 additional ways to save!:
5% Discount: New and existing iHerb customers get 5% Discount with promo code 'ZEL439'!

Just use the links here to auto-apply the iherb promo code, or manually enter it when you checkout

Free Shipping: Get Free Shipping if the order is more than S

$ 79.90

 (US$60)!
5% Loyalty Rebate: Get an additional 5% loyalty rebate that can be used on your next order within 60 days!
Avoid GST: Just make sure the total value of the order (including shipping) is less than S$400!
Click to start saving now! (Why iHerb)
References: Kellymom, WebMD, Mercola Foodfacts, Herb Wisdom