(Discounts and Price Comparisons Below)
With celebrities like Victoria's Secret Angel Miranda Kerr and Victoria Beckham touting the use of Rose Hip Oil as part of their secret beauty regimen, it's no wonder everybody's talking about it.
What is Rose Hip Oil?
Rose Hip Seed Oil is cold pressed oil, extracted from the seeds of the amber berry-like fruit of the Rose bush (Rosa Canina) which grows wild in the southern Andes in Chile. Its healing properties have been a well-kept secret of the native people of Chile for centuries.
A Note on Vitamin C and Acne Treatment
Rose Hips are one of the richest plant sources of Vitamin C. It is, however, absent in Rose Hip Oil, since Vitamin C only dissolves in water, not  in oil.
While Rose Hip Oil is can be used to remove blemishes from acne, some suggest that using it as a treatment of acne itself should be avoided. As usual, results may vary from person to person.
Benefits
Most of the purported benefits of Rose Hip Oil seem to derive from to be a form of Vitamin A that's readily absorbed by the skin, as well as other various antioxidants and essential fatty acids. Also, research suggests the consumption of rose hip powder might be more effective than Astaxanthin for cell longevity, skin wrinkles, moisture, and elasticity. Similar benefits may result from use of the oil.
Here are some of the possible benefits of using Rose Hip Oil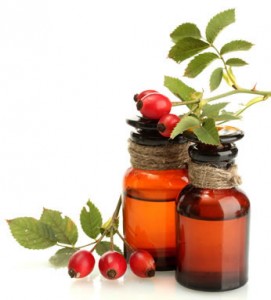 Moisturizing: hydrates for supple and clear skin
Anti-aging: diminished appearance of fine lines and wrinkles, crows feet, etc
Reduce appearance of Scars, stretch marks
Treatment for burns and sun damaged skin
Hair care: strengthens and treats damaged brittle hair
Nail care: strengthens nails and treats skin and cuticles
Perhaps one of the most important thing is that Rose Hip Oil is that it's easily absorbed by the skin, making it a light, non-greasy alternative to some of the heavier oils out there.
Here are some affordable products to try:

Life Flo Health
Pure Rosehip Seed Oil, Skin Care,
30ml (1 oz)
Cold Pressed and Organically grown. A rich, amber colored oil from the ripened fruit of the rose known as hips. Contains natural Retinol Acid (Vitamin A) and is well sought after for helping to replenish and restore mature or sun-exposed skin.
iHerb: US$5.52 (SGD$ 7.57) or less
Now Foods
Solutions, Rose Hip Seed Oil
30 ml (1 fl oz)
Extracted from the seeds of Rosa mosqueta, 100% Pure Rose Hip Seed Oil is rich in Omega-6 essential fatty acids. This oil can be used to aid in skin cell renewal to replenish a healthy glow and helps damaged skin.
iHerb: US$5.34 (SGD$ 7.32) or less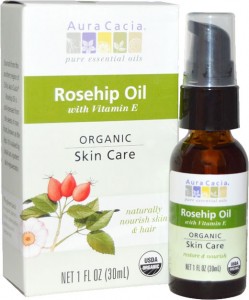 Aura Cacia
Organic, Rosehip Oil, Skin Care,
30 ml (1 fl oz)
Aura Cacia Rosehip Oil contains essential fatty acids, including linoleic and linolenic acids, which are known for their skin conditioning properties and for restoring skin suppleness.
iHerb: US$9.34 (SGD$ 12.81) or less
Click to see more Rose Hip Oil products at iHerb
Remember, there are 4 additional ways to save!:
5% Discount: New and existing iHerb customers get 5% Discount with promo code 'ZEL439'!

Just use the links here to auto-apply the iherb promo code, or manually enter it when you checkout

Free Shipping: Get Free Shipping if the order is more than S

$ 82.28

 (US$60)!
5% Loyalty Rebate: Get an additional 5% loyalty rebate that can be used on your next order within 60 days!
Avoid GST: Just make sure the total value of the order (including shipping) is less than S$400!
Click to start saving now! (Why iHerb)
References: Wikipedia 1 2 3, Oilypedia, PubMed, Huffington Post