(Offers and Discounts Below)
What is Creatine?
The body uses adenosine triphosphate, or ATP, to provide the energy for muscle contractions, particularly for short-term, maximal exercise. Creatine phosphate, which is derived from creatine, is used to make this ATP.
Up to 95% of your body's creatine is found in muscle tissue, though it is also found in the heart, brain and other tissues. Creatine is naturally produced in the body. Food sources include meat, poultry, and fish.
Why Use Creatine? Benefits And Research
Creatine is thought to improve strength, increase lean muscle mass, and help the muscles recover more quickly during exercise.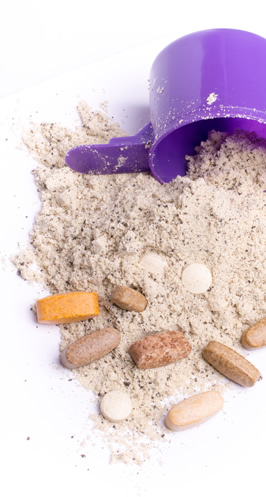 Although the evidence is still not definitive, it has the most evidence behind it among sports supplements. There are quite a few small double-blind studies suggest that it can increase athletic performance in sports that involve intense but short bursts of activity, such as weight lifting and sprinting. There are no known effective benefits for use in purely aerobic exercises however.
Most studies suggest that it is more effective in healthy young adults than in older individuals. However, a three-month study in people 65 suggested that creatine (5 grams/day) can help increase total body mass, lean body mass and muscle strength when combined with resistance training (3 times per week).
Another small double-blind study found that it may also help reduce levels of triglycerides in the blood by about 25%.
So far, it appears that creatine is most effective in people with low levels of it to begin with. For example, since there are no vegetable sources of creatine, vegetarians often have low levels of it and respond well to creatine supplementation. It may also be more effective in muscles that have not been trained or have atrophied. One study suggests that healthy young subjects undergoing rehabilitation therapy after cast removal recovered faster when taking creatine.
Interestingly, a study showed that women benefited less from the use of Creatine and it suggests that women could have more natural levels of creatine than men.
Do note that caffeine may block the effects of creatine.
Creatine Side Effects
Despite initial fears, creatine appears to be relatively safe.
A study with a regimen of several days of a high dosage (15g – 30g daily) followed by 6 weeks of a lower dosage (2g – 3g daily) found no significant side effects have been found. Another study of 100 American football players found no adverse consequences during 10 months to 5 years of usage.
For those with gastrointestinal side effects like diarrhea, stomach upset, and belching, splitting up the doses will help (i.e. 2 separate 5mg dose vs a single large 10mg dose). Getting 'buffered' products may also help.
There has also been little evidence to show that creatine adversely affects the body's ability to exercise under hot conditions, nor does it harm the kidneys. Those with kidney problems, however, may want to be prudent and avoid creatine supplementation.
Prices around Singapore
For comparisons sake, here are some products that can be found around Singapore. Are they cheaper? See for yourself. Click to enlarge some example deals.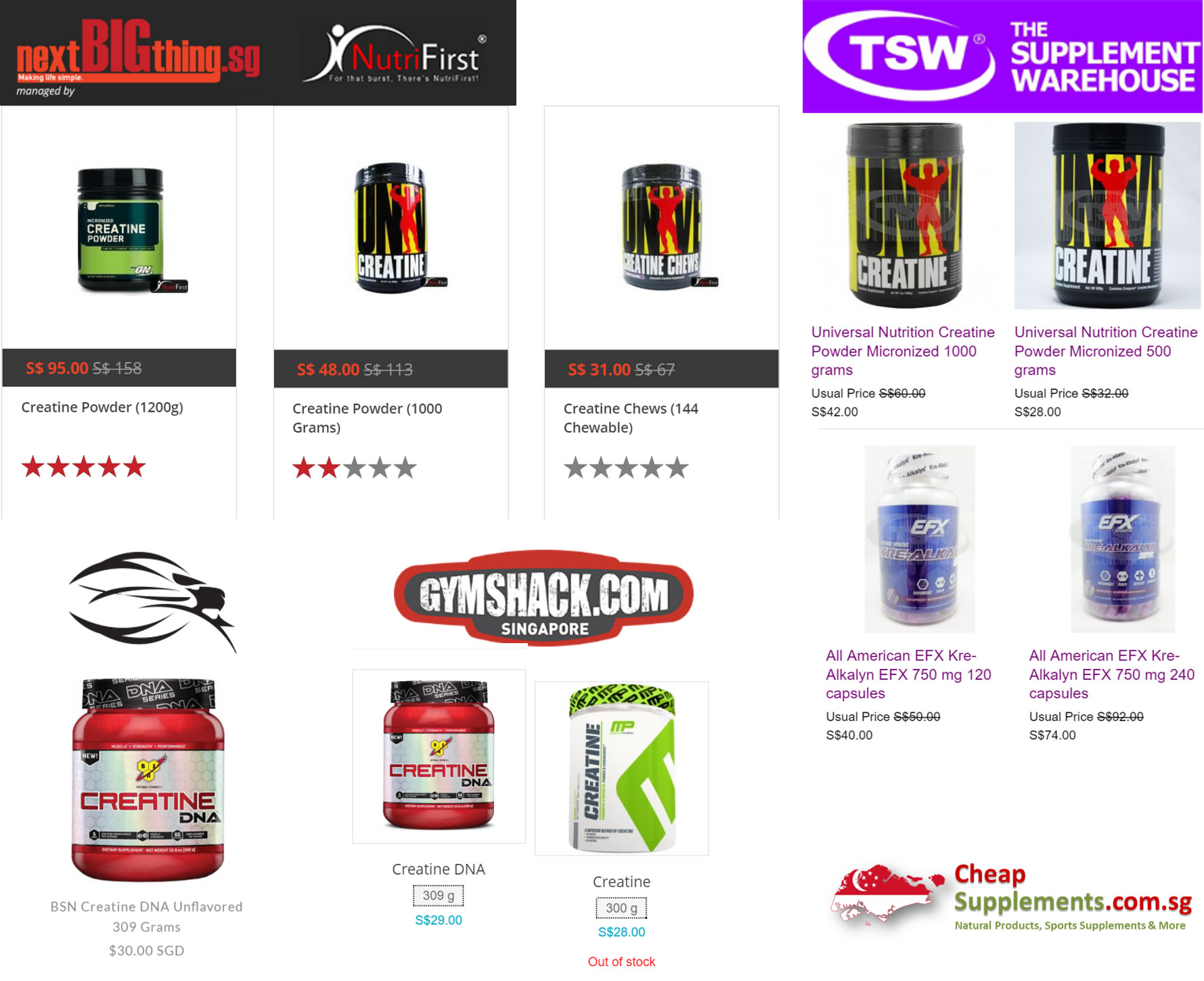 Where to buy
Below are the prices from iHerb. With the comparisons below, you can see why CheapSupplement.com.sg recommends iHerb for all your supplement and organic purchases.
Here are some of the best selling Creatine products: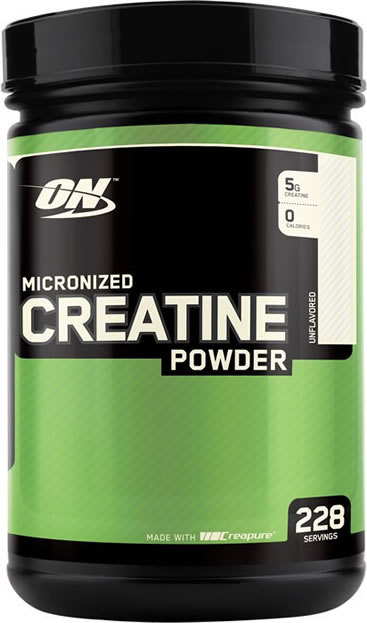 Optimum Nutrition
Micronized Creatine (Creapure), Unflavored
Made with Creapure, a creatine monohydrate known for its exceptional purity. Also micronized, so the powder mixes easier and stays suspended in liquid longer. (Tablets not micronized)
Nutrifirst: Powder, 1200g, SGD$95 (Discounted)
iHerb: Powder, 300g (10.6 oz), US$9.95 (SGD$ 13.65) or less
iHerb: Powder, 600g (1.32 lb), US$18.65 (SGD$ 25.58) or less
iHerb: Powder, 1200g (10.6 oz), US$31.99 (SGD$ 43.87) or less
iHerb: 2500 Caps, 100 Capsules, US$11.99 (SGD$ 16.44) or less
iHerb: 2500 Caps, 200 Capsules, US$18.49 (SGD$ 25.36) or less

Universal Nutrition
Creatine (Creapure)
Universal Nutrition, since 1977. German Creapure Creatine. Readily Absorbed Creatine Formula. Boosts Strength & Performance.
TSW/Nutrifirst: Powder, 1000g, SGD$42-48
iHerb: Powder, 2x200g, US$15.99 (SGD$ 21.93) or less
iHerb: Powder, 500g, US$17.49 (SGD$ 23.99) or less
iHerb: Powder, 1000g, US$29.99 (SGD$ 41.13) or less
iHerb: Grape Flavour, 144 Chewables, US$14.53 (SGD$ 19.93) or less
iHerb: Orange Flavour, 144 Chewables, US$14.99 (SGD$ 20.56) or less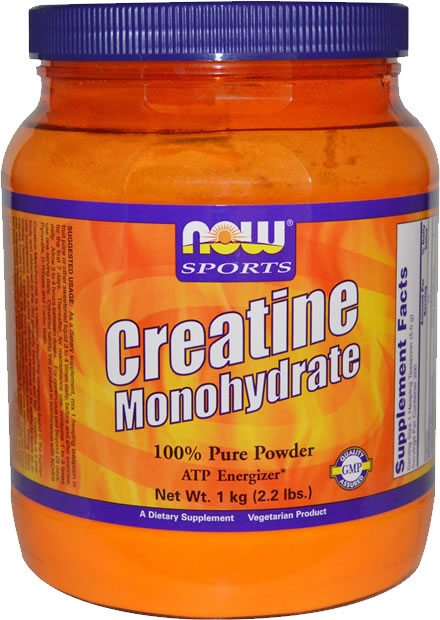 Now Foods
Sports, Creatine Monohydrate
NOW Creatine Monohydrate is 100% pure and contains no additives or preservatives.
iHerb: Powder, 227g (8oz), US$7.63 (SGD$ 10.46) or less
iHerb: Micronized Powder, 500g (1.1 lb), US$16.12 (SGD$ 22.11) or less
iHerb: Powder, 1000g (2.2 lb), US$21.03 (SGD$ 28.84) or less
iHerb: 120 Capsules, 750mg, US$8.91 (SGD$ 12.22) or less
iHerb: 150 Capsules, 1500mg, US$15.93 (SGD$ 21.85) or less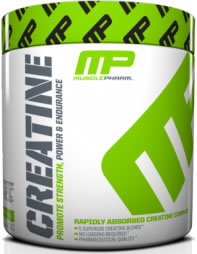 Muscle Pharm
Creatine
300g (0.66 lbs)
Official Supplement Provider of the UFC (Ultimate Fighting Championship. Clinically-proven Cinnulin heightens absorption, so the five pure and diverse creatine complexes delivering a range of benefits will launch directly into muscles.
TSW/Fitlion/Gymshack: SGD$28-30
iHerb: US$12.99 (SGD$ 17.81) or less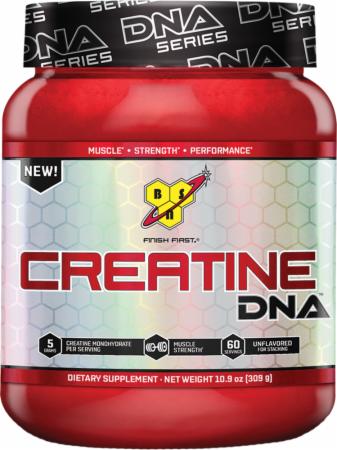 BSN
Creatine DNA, Unflavored
309g (10.9 oz)
BSN Creatine DNA provides 5 grams of pure micronized Creatine Monohydrate to support strength, power, and lean body mass without any fillers or additives. Unflavored, so it may be added to your post-workout recovery shake or favorite beverage.
TSW/Gymshack: SGD$29-30
iHerb: US$9.99 (SGD$ 13.70) or less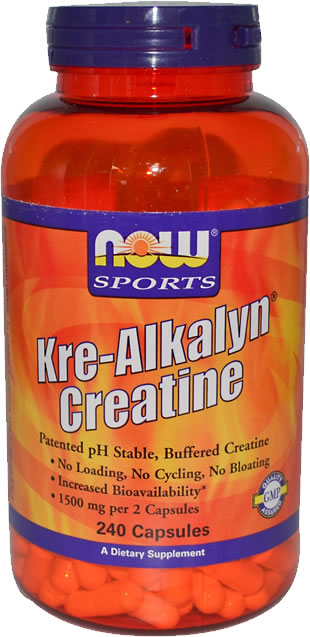 Now Foods
Kre-Alkalyn Creatine (Buffered)
Kre-Alkalyn is a patented buffered creatine formula to eliminate the uncomfortable stomach distress, gas, and bloating that is associated with other Creatine supplements. Buffering also prevents loss of potency when passing through digestive juices.
iHerb: 120 capsules, US$17.20 (SGD$ 23.59) or less
iHerb: 240 capsules, US$31.86 (SGD$ 43.69) or less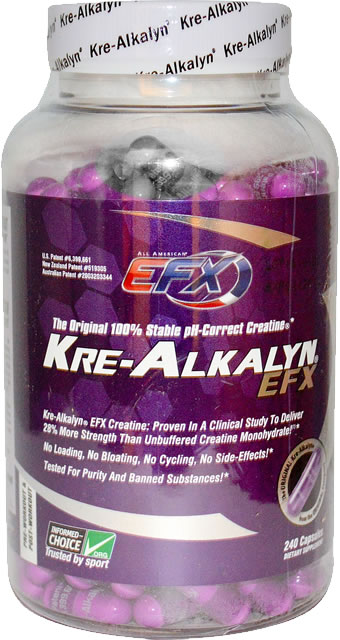 All American EFX
Kre-Alkalyn EFX (Buffered Creatine)
Proven in a clinical study to Deliver 28% more strength than unbuffered creatine monohydrate. Doesn't lose potency before absorption as it's buffered against digstive juices. No Loading, No Bloating, No Cycling, No Side-Effects.
TSW: 120 capsules, SGD$40. 240 capsules, SGD$74. 
iHerb: 120 Capsules, US$14.99 (SGD$ 20.56) or less
iHerb: 240 Capsules, US$26.99 (SGD$ 37.01) or less
iHerb: Powder, 100g, US$14.99 (SGD$ 41.13) or less
iHerb: Powder, 210g, US$24.99 (SGD$ 34.27) or less
Click here to see the best selling Creatine products at iHerb
Remember, there are 4 additional ways to save!:
5% Discount: New and existing iHerb customers get 5% Discount with promo code 'ZEL439'!

Just use the links here to auto-apply the iherb promo code, or manually enter it when you checkout

Free Shipping: Get Free Shipping if the order is more than S

$ 82.28

 (US$60)!
5% Loyalty Rebate: Get an additional 5% loyalty rebate that can be used on your next order within 60 days!
Avoid GST: Just make sure the total value of the order (including shipping) is less than S$400!
Click to start saving now! (Why iHerb)
References: ConsumerLab 1 2, PubMed, WebMD, Men's Health