(Discounts and Price Comparisons Below)
What are Green Superfood Supplements?
Green Superfood supplements are where superfoods like Chlorella, Spirulina, and Resveratrol extracts are combined together, in convenient powder form, into holistic blends.
With Green Superfood supplements, it's extremely easy to get multiple servings of healthy, nutritious superfoods. Usually, all you need is a scoop of these powder blends and stir them into water or your favorite juice and smoothies.
Some even add them into cakes, cookies, and other recipes, so be creative!
Where to buy
Below are the prices from iHerb. With the comparisons above, you can see why CheapSupplement.com.sg recommends iHerb for all your supplement and organic purchases. Here are some of the best selling Green Superfood products: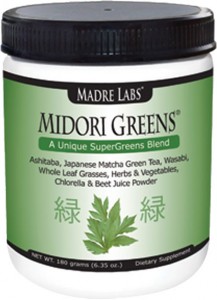 Madre Labs
Midori Greens, A Unique SuperGreens Blend
180g (6.35 oz)
Midori Greens, a Premium SuperGreens Blend with a core of three traditional Japanese ingredients: Ashitaba, Japanese Matcha Green Tea & Wildcrafted Wasabi. Also contains Field-Grown Whole Grasses, Herbs, Vegetables, Broken Cell Wall Chlorella and Beet Juice Powder.
iHerb: US$25.60 (SGD$ 35.11) or less
Paradise Herbs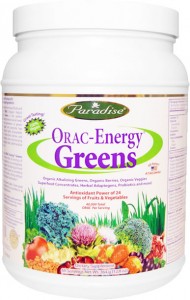 ORAC-Energy Greens
364g (12.8 oz)

Patented formula containing over 42 certified organic and pesticide free ingredients. Over 40,000 total ORAC per serving ORAC-Energy Greens provides the antioxidant power of more than 24 servings of fruits & vegetables in every scoop.
iHerb: US$48 (SGD$ 65.83) or less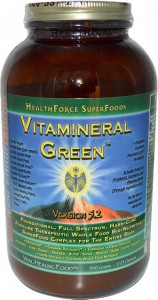 HealthForce Nutritionals
Vitamineral Green
Foundational, full spectrum, hard-core alkaline therapeutic whole food bio-nutritive superfood complex for the entire body. Every ingredient, including how it is grown and processed, is therapeutic.
Balanced Living: 500g SGD$114.95
iHerb: 500g US$67.15 (SGD$ 92.09) or less
iHerb: 400 capsules US$67.15 (SGD$ 92.09) or less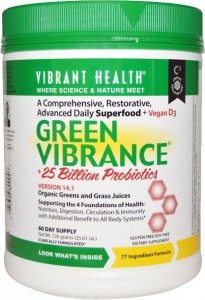 Vibrant Health
Green Vibrance
A comprehensive 77 ingredient formula, which includes Vegan D3, 25 billion probiotics, organic greens and grass Juices. A highly restorative, advanced daily superfood.
iHerb: 363g (12.8 oz), US$39.96 (SGD$ 54.80) or less
iHerb: 726g (25.61 oz) US$67.96 (SGD$ 93.20) or less
iHerb: 1kg bulk value, US$88.76 (SGD$ 121.72) or less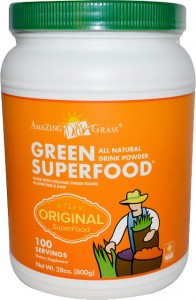 Amazing Grass
Green SuperFood, All Natural Drink Powder
Straight from the farm, Amazing Grass Green SuperFood is a combination of nature's most nourishing, cleansing and potent superfoods. Packed full of alkalizing greens, antioxidant rich fruits and support herbs.
iHerb: 240g (8.5 oz), US$22.94(SGD$ 31.46) or less
iHerb: 480g (17 oz) US$38.34 (SGD$ 52.58) or less
iHerb: 800g bulk value, US$53.76 (SGD$ 73.73) or less
Click to see more Green Superfood products at iHerb
Remember, there are 4 additional ways to save!:
5% Discount: New and existing iHerb customers get 5% Discount with promo code 'ZEL439'!

Just use the links here to auto-apply the iherb promo code, or manually enter it when you checkout

Free Shipping: Get Free Shipping if the order is more than S

$ 82.28

 (US$60)!
5% Loyalty Rebate: Get an additional 5% loyalty rebate that can be used on your next order within 60 days!
Avoid GST: Just make sure the total value of the order (including shipping) is less than S$400!
Click to start saving now! (Why iHerb)